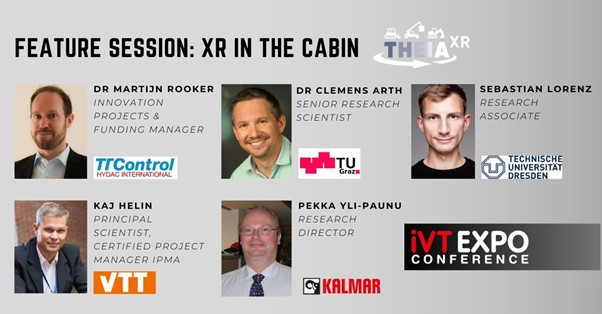 THEIAXR will host a Feature Session at the iVT Expo 2023 conference, focusing on the topic "XR in the cabin". This session will take place on Wednesday, the 28th of June at 2 p.m. The following topics will be presented:
Dr. Martijn Rooker (TTControl GmbH): XR in the Cabin – the THEIAXR approach
Dr. Clemens Arth (Graz University of Technology): Accurate outdoor augmented reality – applications and challenges
Sebastian Lorenz (Technische Universität Dresden): User interface design in industrial applications – Using low effort, medium fidelity prototyping to explore XR modalities
Kaj Helin (VTT Technical Research Centre of Finland Ltd): Exploiting XR in novel cabin concepts and operator support
Pekka Yli-Paunu (Kalmar): XR use cases in container handling machines
Afterward, a panel session will take place, where the discussion will engage on topics beyond the obvious and extend the exchange on topics like generational bias in the acceptance of AR/VR solutions, and boundary conditions in the development and implications of human-machine interactions.
Do you want to meet us?
Join our XR experts in Cologne, Germany at the iVT Expo conference to discuss the developments in XR and the possibility of integrating them into cabins to "make the invisible visible".
We would be delighted to meet you! Contact us at info@theia-xr.eu and let us know, if you want to talk with us!